One bottle warmer that covers all your bottle warming needs. Plug it into mains power when at home and when out, simply power with the inbuilt lithium ion battery. Select to warm to 39,42 or 45 degrees and once the bottle reaches the correct temperature, the warmer will regulate at that temperature, so the bottle is ready to go when Bub is ready to drink! Perfect for home use, car trips, plane trips, holidays, camping, picnics, dining out, shopping trips.. the list goes on!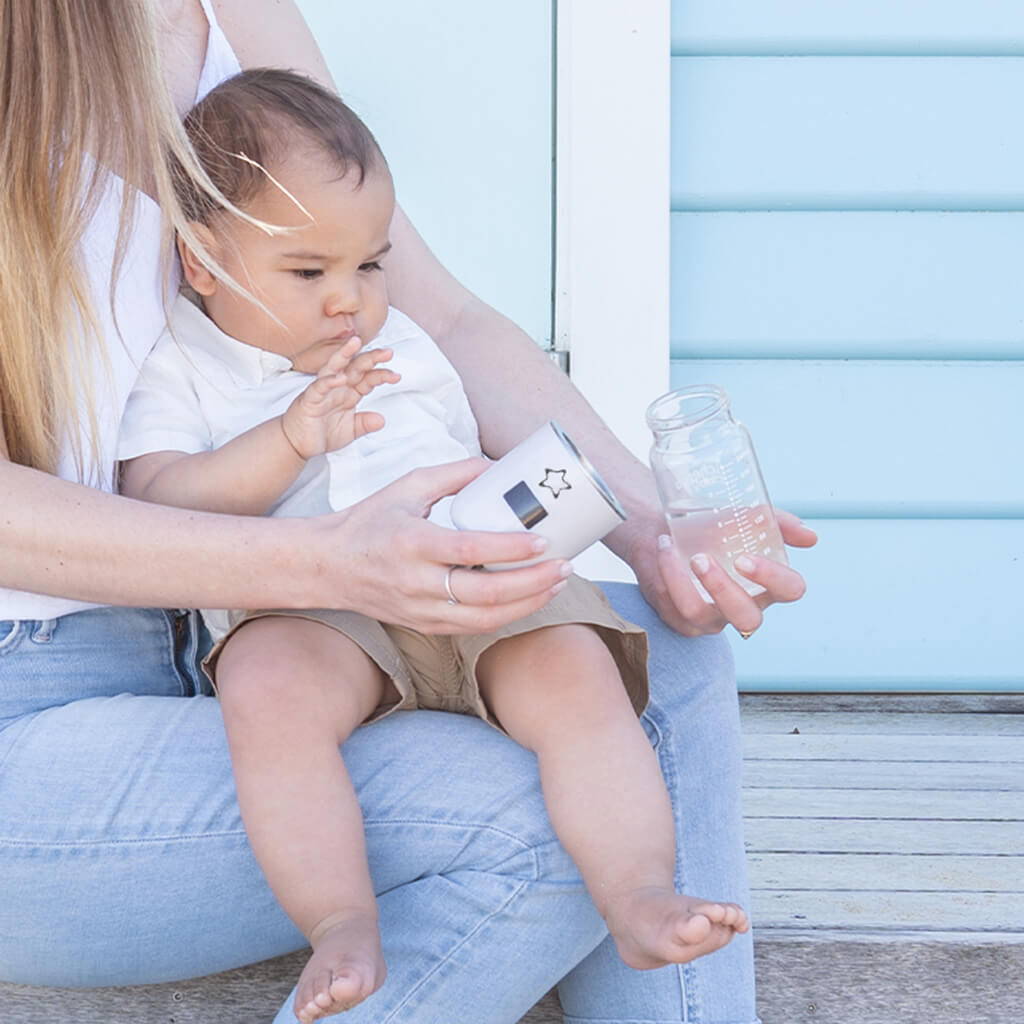 COMPATIBLE: fits all major brands (Aside from Avent other brands need adaptors sold separately)

SIMPLE CHARGING: connect to mains power, USB

SAFE: Once it reaches the correct temperature, it holds the temperature.
1 STEP OPERATION: simply press the power button to warm to a safe temperature in minutes.

ULTRA FAST: up to 75% faster than other brands

LARGE BATTERY CAPACITY: 6000mAh battery capacity, warm up to 6 bottles in one charge.
watch videos BELOW for further details how to attach anywhere bottle warmer
(Cherub Baby bottles, Avent, Pigeon, Dr. Browns, NUK)
*Aside from Avent other brands need adaptors sold separately
So happy with this little portable bottle warmer, absolute saver. Its easy to use and heats reasonably fast and is great for when out and about.
Anywhere Universal portable Bottle Warmer
I personally like it and definitely a game changer
It is small and compact ( about 3/4 size of a softdrink can) and weighs light great option instead of bringing a thermos with hot water. It does take about 1-3 mins to warm milk- with different temp setting.
I like that it is rechargeable and can fit your Usb C (apple charger). Options for feedingbottles with adaptors- and if instructions are followed there is no leakage.
Having a toddler I feel this is much safer if played with compared to hot water. Great product. Price is competitive, bought with discount. Great for camping, or winter bottle warming.
Fantastic!
This warmer has been the best thing we have brought for our first baby. It allows us the freedom of being out and about & not needing to stress about finding access to hot water ect.
It's lightweight, charges well (we have also charged it in the car too!) we get 3-4 heating sessions per charge depending on how cold the water is.
Brilliant product - would recommend highly
Bottle warmer
Im happy with this product easy to use and the delivery super quick
Universal bottle warmer
Great design, small and compact.
Reason for 3 stars is it takes a very long time to warm the milk- 10 - 15 mins + .
Great for travel/ when you are out and about but not for home as it takes too long. I will continue to use on holidays.